Vacancy for the Post of Consultant: Last date extended to 28/11/21 by 5PM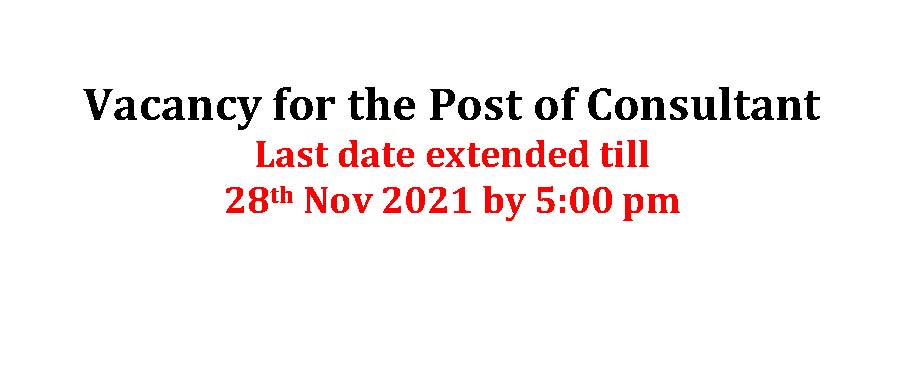 Indian Council of Social Science Research
North Eastern Regional Centre
NEHU Campus, Shillong-793022
F.No. 11.46/NERC/ADVT-Con/2021-135 Dated: 08th Nov 2021
Application in Standard Format (Click here) is invited from interested and eligible candidates for filling up 1 (one) post of Consultant (Academic and Administration) purely on temporary and contractual basis for an initial period of 6 (six) months likely to be extended on need-base and performance on a consolidated pay of Rs.50,000/- per month.
Name of the post: Consultant (Academic & Administration)
No. Of Vacancy: 01
Expectations from the candidate
The Consultant will be responsible in assisting the honorary director/office in preparing/ scrutinising/examining research proposals/programs/seminars/Workshops/ publications of the ICSSR-NERC. He/She has to also assist the Honorary Director in undertaking the day-to-day administrative works of the office. The applicant may be an in service or retired as an Assistant/Associate Professor from an academic institute/College/University or from an administrative position of a research institute/College/University and having a demonstrable academic and administrative acumen to his/her credit apart from an experience of 3 to 20 years in teaching/guiding research/research administration/academic administration.
Qualifications and Experience:
The eligible applicant for the post of consultant should have the following qualifications and experience mentioned below:
a). Post Graduate degree in Social Science discipline with at least 55% (relaxable by 5 % for SC/ST candidates) marks or its equivalent grade from a recognized university/Institute.
b). 3 to 20 years' experience of teaching/guiding research/ research administration/academic administration in an academic institute/ research organization of repute.
Other things remaining same, preference shall be given to candidates having Ph.D. degree.
Age Limit: preferably up to 65 years.
GENERAL TERMS & CONDITIONS
The prescribed qualifications are the minimum and mere possession and fulfilment of the essential and desirable qualifications for a post does not entitle the candidate to be called for interview/ test.
Application must be neatly typewritten on A-4 size paper in the prescribed format. The format can also be downloaded by (Click here)
One recent passport size photograph should be pasted on the top right hand corner of the application. Application without photograph will be treated as incomplete application and will be rejected.
All applicants should submit a brief CV, not more than two pages detailing list of academic and administrative accomplishments.
Envelope containing application should be super-scribed with "APPLICATION FOR THE POST OF CONSULTANT (Academic and Administration) ."
The remuneration will be as per the relevant rules of Govt of India and ICSSR for retired Government Employees. For others, it would be Rs.50000/(all Inclusive) consolidated per month .
The candidates short-listed for interview/ test will be informed by post and e-mail. The ICSSR-NERC will not be responsible for any postal delay.
Original certificates should be produced only at the time of interview/test. However, self-attested photocopies of testimonials may also be attached with the application in support of their educational qualifications and experience etc.
Applications received after expiry of the prescribed period and/or found to be incomplete in any manner or not submitted in prescribed format will not be entertained.
ICSSR-NERC reserves the right to interpret all rules including wherever it is not specifically mentioned and may cancel the candidature without assigning any reason (s). The decision of the ICSSR-NERC in respect of selections shall be final and no correspondence in this regard will be entertained.
Canvassing in any type/from will disqualify the candidature of the applicant.
The application complete in all respect must be sent to Honorary Director, ICSSR-NERC, NEHU Permanent Campus, Mawlai-Mawkynroh, Shilong, Meghalaya-793022 latest by 5 PM of 24.11.2021. Scanned or e-applications may be emailed to icssrnerc@gmail.com.
Last date extended to 28th November 2021 by 5:00 PM.
Sd/-
Honorary Director,
ICSSR-NERC